Posts for tag: dentures
By The Scarsdale Dentist
February 05, 2020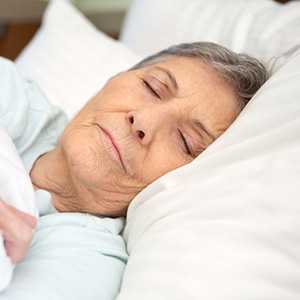 Perhaps you've heard the old saying: "Take care of your dentures and your dentures will take care of you." Well, maybe it's not that old—but it's still a sensible notion. Maintaining your dentures by routinely cleaning them and having them checked for fit will improve their longevity.
There's one other thing you should include on your maintenance routine—avoid wearing your dentures 24/7, especially while you sleep. This bad habit could lead to some unpleasant consequences.
For one, wearing dentures continuously can accelerate bone loss in the jaw that eventually causes your dentures to lose their comfortable fit. Bone loss is a natural consequence of tooth loss because the bone no longer receives the stimulation to grow transmitted by the teeth during chewing. Dentures can't transmit this stimulus; what's more, the pressure they place on the gums and underlying bony ridges could make bone loss worse. You can relieve this gum pressure at night by taking them out.
Dentures can also become a breeding ground for bacteria and fungi that cause disease, irritation and unpleasant mouth odors. Taking dentures out at night deprives these microorganisms of a prime opportunity to carry on business as usual—and it's also a great time to clean your dentures. People who sleep with their dentures in their mouth are more likely to have gum or oral yeast infections and higher levels of proteins produced by white cells that increase inflammation. That could contribute to other diseases throughout the body.
Besides taking your dentures out at night, you should also practice other daily hygiene tasks. Remove your dentures after eating and rinse them with clean water. Brush your dentures daily with a soft-bristled brush and dish or antibacterial soap or dental cleanser (no toothpaste—it's too abrasive for denture surfaces). Be sure you clean your gums and tongue every day too. When your dentures are out, store them in clean water or preferably an alkaline peroxide-based solution.
Removing your dentures at night and these other good habits will help extend the life and fit of your dentures. It could also help keep the rest of you healthy.
If you would like more information on denture care, please contact us or schedule an appointment for a consultation. You can also learn more about this topic by reading the Dear Doctor magazine article "Sleeping in Dentures: A Habit that Can Cause Health Problems."
By The Scarsdale Dentist
January 06, 2020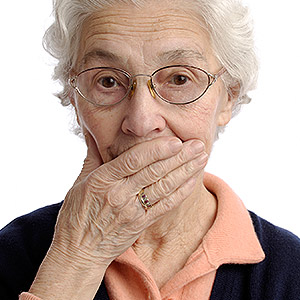 Today's technologically advanced dentures aren't your grandparents' "false teeth." Now made with superior materials and processes, you could almost forget you're wearing them. But don't let that cause you to leave them in for the night: While it may seem like a harmless thing to do, wearing dentures 24/7 may not be good for them or your health.
For one thing, around the clock denture wearing could worsen bone loss, already a concern with dentures and missing teeth. The forces generated when we chew on natural teeth stimulate new bone growth to replace older bone cells. When teeth go missing, though, so does this stimulus. Even the best dentures can't restore this stimulation, so bone loss remains a risk.
And, dentures can accelerate bone loss because of the added pressure they bring to the bony gum ridges that support them. Wearing them all the time deprives the gums of any rest, further speeding up the pace of bone loss. Losing bone volume not only affects your overall oral health, it will gradually loosen your dentures' fit and make them uncomfortable to wear.
Another problem: You may clean your dentures less frequently if you don't take them out at night. Lack of cleaning can encourage bacterial growth and lead to disease. Studies show that people who don't take their dentures out at night have more dental plaque accumulation, gum inflammation and higher blood counts of the protein interleukin 6, indicating the body is fighting infection.
And that's not just a problem for your mouth. Continuous denture wearing could make you twice as likely to develop life-threatening pneumonia as someone who routinely takes their dentures out.
These and other concerns make nightly denture removal a good practice for your health's sake. While they're out, it's also a good time to clean them: Manually brush them for best results (be sure you're only using regular soap or denture cleanser—toothpaste is too abrasive for them). You can then store them in clean water or a solution designed for dentures.
Having said all that, though, there may be one reason why wearing dentures at night might be beneficial—it may help prevent obstructive sleep apnea. If you have this condition, talk to your dentist about whether wearing your dentures at night has more advantages than disadvantages. And, if bone loss created by wearing dentures is a concern, it could be resolved by having implants support your dentures. Again, discuss this with your dentist.
Taking care of your dentures will help increase their life and fit, and protect your health. And part of that may be taking them out to give your gums a rest while you're resting.
If you would like more information on denture care, please contact us or schedule an appointment for a consultation. You can also learn more about this topic by reading the Dear Doctor magazine article "Sleeping in Dentures."